SEO is an ever-evolving field. From Google algorithm updates, to a mobile first index, to RankBrain and the rise of AI,– it's safe to say what worked five years ago won't work today. Hell, what worked
five
months
ago
may not even work today. Nowhere is this more evident than the South Florida legal industry. With fierce competition from local and national law firms, rampant unethical link building practices, and online ambulance chasers everywhere, it's a tough world out there for attorneys. Add in skyrocketing PPC costs – legal keywords are the fourth most expensive in AdWords with an average CPC of
$40
– and it looks like a no-win situation. Abandon all hope, ye who enter here. Today is your lucky day, though, because you're reading the Next Level SEM blog. You're getting the inside scoop on how to reach new heights of legal industry SEO success. We bring the best backlinks, crazy conversions, and comprehensive content. With nothing less than total SEO domination in mind, check out these five tools for legal SEO that you're not using, but should be. Don't forget to contact us today for your
free SEO strategy session
.  
Google Keyword Planner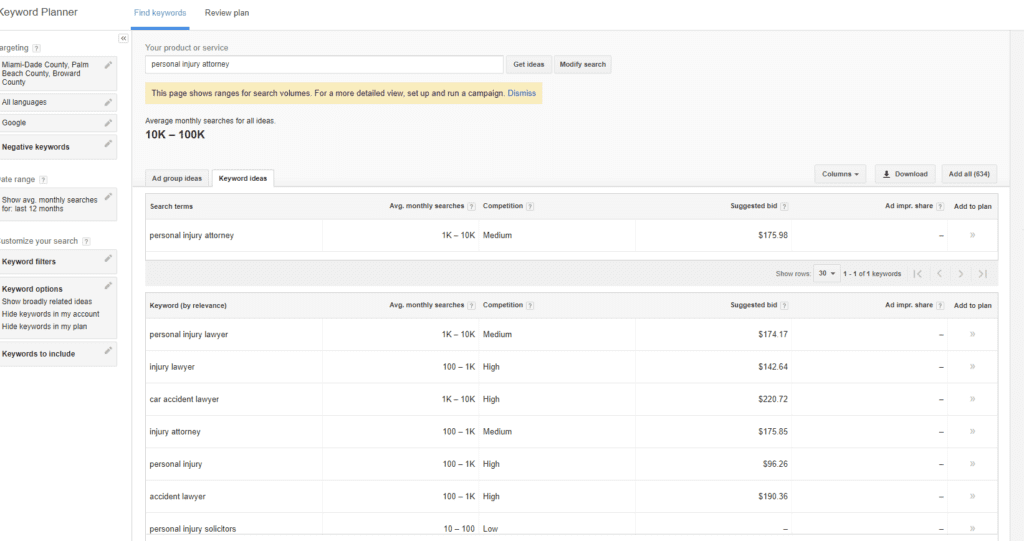 This one is a classic but a goody. You're doing something seriously wrong if Google Keyword Planner is not your first stop for keyword research. You can quote us on that. You'll need a Gmail account to access Keyword Planner. Once you're good to go in Google,
click here to login to Keyword Planner
. You'll need to enter some info to get to where you want to go, but don't worry, none of the info goes live right away. When you're at AdWord's main page, click on "Tools" in the upper toolbar. From there click on Keyword Planner. The next screen is going to give you a lot of options, but stick to "Search for new keywords using a phrase, website or category" for now. Type in some potential keywords – ignore landing page, category, targeting, etc. for now too – and click "Get ideas."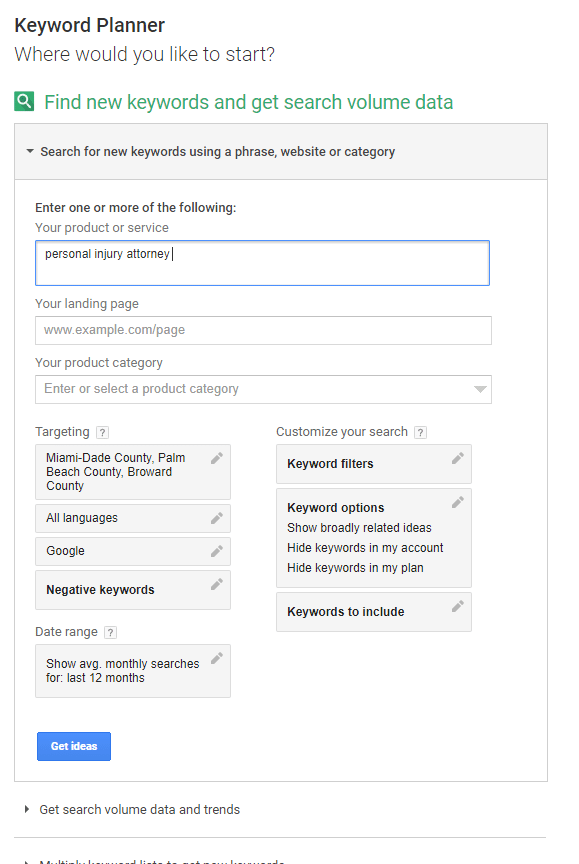 You'll see a breakdown of your keyword ideas and a lot of related keywords to consider. If you're not already overwhelmed, you will be here. If you
are
already overwhelmed, paralyzing fear will probably start to kick in. Don't worry. Take a second to breathe and remember we're in this together. We're holding your digital hand every step of the way. Start to look through the related keywords. You'll want to pay special attention to "Avg. monthly searches" and "Suggested bid." These are going to give you a good idea of how hard any given keyword is to rank for and how lucrative it is. High monthly searches are competitive, regardless of what the "Competition" column says. High suggested bid means that it is lucrative. Build out your initial keyword list from here. You won't end up using all these keywords, but this preliminary list is more than enough to get you started. Speaking of getting started, what happens after you have your keyword list? How do you create content that isn't
just
going to rank for a particular keyword? How do you create content that converts? Simple. You create personas.  
Hubspot Academy's Persona Creation Guide
We could write a novel on personas, but who wants to read a novel? Attorneys don't have the time. Paralegals don't have the time. Digital marketers want the cliff notes. SEOs are too busy creating content and building links. This info goes a long way towards creating personas. Personas, at their most basic, are sketches of your audience, customers, and competitors. They're a tool that allows you to segment and personalize content to help supercharge your conversion rates. No one does personas better than Hubspot and their
Persona Creation Guide
is nothing short of gospel. Now, here is a big caveat – the Guide is based around using Hubspot's CRM. It features a lot of steps on how to create personas in their CRM. You can ignore this for now (though we 100% recommend using Hubspot software when you're ready) and focus on the first several steps. The Guide lists detailed questions to ask yourself to build out your personas. These range from the obvious – what industry do they work in, how old are they, etc. – to the unthought of and, dare we say, downright genius – what does success mean to them, what blogs do they read, etc. Putting all this info together gives you an unparalleled way to go beyond simply getting rankings. Persona creation is one of the cornerstones of conversation rate optimization (CRO). We'll explore CRO in some serious depth later, but for now it's enough to know CRO's the step
after
SEO success. Alright, sold on creating personas? Good. It's time to turn our attention to the one, the only, the MozBar.  
MozBar
MozBar
is a free browser extension that lets you quickly check out on-page SEO info for any page you're on. There are two main options you're going to want to pay attention to. First, there's Page Analysis. Page Analysis is broken down into smaller categories, including: On-Page Elements, General Attributes, Link Metrics, Markup, and Http Status. On-Page Elements lists the title tag, meta description, meta keywords, H1s and H2s, alt text, bolded text, and italicized text used on the page. General Attributes lists the canonical URL, the Google cached URL, the page load time, and whether the page uses meta robots. You'll need to have a Moz account to access Link Metrics, so ignore this for now. We'll circle back to it in a moment and start dropping some serious knowledge on how you can use it to quickly gauge a page's PA, followed links, mP, mT, and more. Markup lists whether the page is using Schema.org markup, Facebook Open Graph markup, Twitter cards, and Google Microformats. It also has links to test how each of these forms of markups is running and preview what they'll look like. Http Status simply lists what the status of the page is. Status 200 means it's loading properly. Status 301 means it's permanently redirected. Status 302 means it's temporarily redirected. Status 404 means it's been deleted. Status 503 means the server is temporarily down. There are about one hundred more status codes, but you don't have to memorize them now. You can always check out the
W3.org guide to Http statuses
. Let's discuss Link Metrics. The little tab that holds more weight than the rest put together. This is the most valuable part of the MozBar, and it's also the one you have to create a login to use. The good news is you can create a free
Moz Community account
. The bad news is once you realize all the cool stuff Moz can do, you're going to want to upgrade to the paid version. Once you've created your Moz login, you can view the link metrics' snippet on the "main" MozBar, the Link Metrics' tab within Page Analysis, and the Highlight Links tab. All of these tell different parts of the same story – a page's link profile. Some call it link juice, some link equity, and still others call it ranking magic. The name doesn't really matter. What does matter is that the info you can get – Page Authority, Domain Authority, External Followed Links, Linking Root Domains, Subdomain Root Domains, MozRank, MozTrust, and the total number of links – helps determine whether a page has a strong link profile. The stronger a page's link profile, the higher that page will rank in search engines. The stronger a page's link profile, the more you want a link from them, assuming it's an industry relevant link, of course. The stronger a page's link profile, the more awesome that page is. We promise. Let's take a break from all the writing for a minute. Do you know one of the most underutilized legal SEO tools? Canva. What is Canva? We're glad you asked.  
Canva
Canva
is a graphic design tool that's basically the best thing since someone had the bright idea to organize the internet with search engines. It's super simple to use, has premade templates that offer extreme customization, and, best of all, it's 100% free. Yep, a graphic design and creation tool that's not only useful and powerful, but free. SEO is about providing quality content to create relationships with websites that will link to you with attribution. This is where Canva
really
starts to shine. Not only can you create beautiful infographics in minutes (
a tried and true link building technique
), but you can create all kinds of other visual content. Canva offers options to create:  
Facebook posts
Facebook Covers
Facebook Event headers
Facebook app graphics
Instagram posts
Pinterest graphics
Twitter graphics
Twitter headers
LinkedIn banners
YouTube thumbnails
YouTube banners
YouTube channel art
Tumblr graphics
Google+ headers
Twitch banners
Etsy icons
Etsy covers
Soundcloud banners
Getting tired yet? We hope not, because we're just getting started on what you can make with Canva. More options include:
Blog graphics
Letterheads
Presentations (in landscape and portrait)
Letters (in US and A4 dimensions)
Resumes
eBooks
eBook covers
Banner ads
CD covers
Posters
Menus
Flyers
Business cards
Logos
Brochures
Gift Certificates
Labels
Postcards
Invitations (in landscape and portrait)
Programs
Desktop wallpapers
Tags
Ads of all shapes and sizes
That about covers what you can do with Canva, for now. They're constantly trying out new features, though, so we'll probably have to redo this list in a month.  
Grammarly

Last, but certainly not least, we have
Grammarly
. This free grammar checker is invaluable for tightening up your writing and taking your SEO efforts to the next level. Not everyone is a great writer, we get it. Unfortunately, when it comes to SEO, your writing needs to be nothing short of perfect. This includes sterling grammar, being free of plagiarism, having a strong, active voice, and a lot more. Grammarly makes all this possible for even novice writers. How do they do this? Well, we're glad you asked, because it's pretty cool. Grammarly uses a ton of unique tools like contextual spelling checkers – think the difference between principal and principle – and situational writing style suggestions – think blog vs. technical vs. academic. The basic version of Grammarly is free, though they do offer paid versions. Both tools listed above only come with the paid versions. Trust us, though, investing in a grammar checker is money well spent, especially when it includes all sorts of bonus stuff. Grammarly is a browser extension
and
integrates with Microsoft Office products. That means you can use it with pretty much any program or online software you're on. Flawless emails? Check. Perfect social posts? Done. Unbelievably compelling articles? Of course. Is Legal SEO starting to seem a bit less overwhelming? Good. Give this article a share on social media, or a link on your website, to help us get that warm and fuzzy feeling that comes from a job well done. If it isn't, if the idea of doing SEO
still
sends shivers down your spine, then drop us a line today. We'll give you a free marketing audit and strategy session that's valued around $1,500.