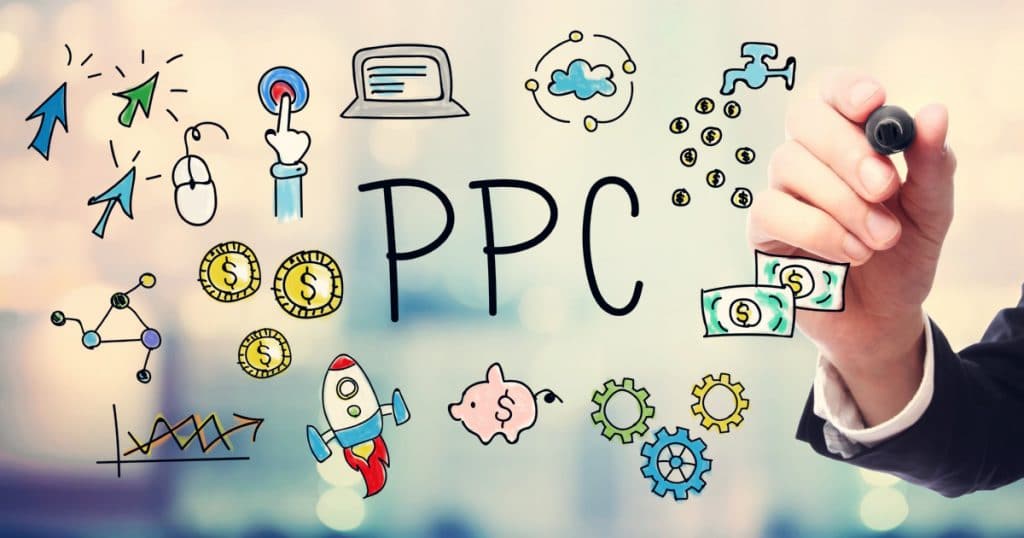 There is no one-size-fits-all solution for marketing, especially digital marketing. Algorithms, industry best practices, and technology are constantly evolving. In the dominion of digital marketing, companies that are able to adapt to the change will be the only ones left standing.
Luckily, there are a variety of ways to outpace your competition in the pursuit of digital marketing supremacy. Enter Pay-Per-Click (PPC) marketing.
PPC Marketing enables you to directly target your potential customers with clickable advertisements that are tailor-made for the exact audience you want to go after, in addition to a myriad of other unique features. 
With the right PPC marketing agency (and right strategy), you can supercharge your marketing efforts and stay afloat, while your competition sinks to the bottom. Let the experts from Next Level Marketing briefly break down the power of PPC marketing, and most importantly, tell you how you can harness the power of PPC for yourself. 
Pay-Per-Click Basics 
As the name suggests, PPC ads are essentially clickable ads that will display on a user's web browser as they surf the internet or in the paid search results when they punch a query into Google or Bing.
No matter the kind of PPC ad, upon clicking, users will be taken to a designated landing page, and hopefully, convert into paying customers.
Now, while PPC advertising is really that simple, there are a few things to note, as not all PPC ads are the same.
For example, PPC ads have two kinds of keyword bidding options, bid-based PPC and flat-rate PPC.
Bid-Based PPC
The cost of a keyword will be determined via auction run by the publisher. The higher the bid for your ad, the more visible you will be in the paid search results for the respective search engine. 
Flat-Rate PPC
A flat rate is agreed upon for each and every ad click, rather than varying rates. Pretty simple, right?
Of course, beyond the differences in keyword bidding options, for either form of PPC, a variety of factors determine the functionality of your ad and where it's eventually placed in the paid search results.
Some of the factors that determine the success of your ads include metadata, website content, and even your website's SEO standing!
The last point is important to note because a strong SEO marketing strategy can synergistically improve your odds of PPC success! But beyond the basics, there are a few reasons to consider a PPC marketing campaign for your brand.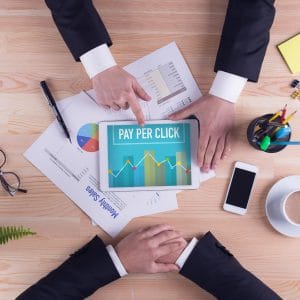 Why Pay Per Click?
Unfortunately, search engine optimization alone won't always make it to the right people. While original, creative content is an integral part of building a brand, the internet is a vast ecosystem, and it can be incredibly hard for anyone—even someone who fits your consumer persona perfectly—to connect with your business without a little bit of assistance getting above all the noise. 
PPC can pierce that "noise barrier" and directly beam your brand's message at your desired audiences.
Another huge benefit of PPC marketing is just how malleable it is. By being able to get a first-hand view of what people are clicking on and where, you can easily adjust your strategy in a cost-effective way. 
You can even access data that shows you what you want to know about your demographics. From the location, age, and so much more, PPC is an excellent tool for learning more about what kind of consumer persona to build, and once built, directly target said persona.
Strong creatives and organic content, when combined with the right PPC strategy, can truly take a brand or business to the next level. All it takes is the right digital marketing agency to put it all together.
Take Your PPC Marketing Efforts to the Next Level
At Next Level Marketing, our internationally renowned PPC campaigns have helped businesses—from mom-and-pops to global giants—generate more leads and grow their customer base with our proprietary PPC marketing strategies.
If you're looking for PPC marketing professionals that can help you reach your market with top-of-the-line, cost-effective solutions, you've come to the right place. 
In just one free PPC marketing strategy session, you can learn how our PPC marketing experts will take your brand to the next level. Complete our contact form or call us at 1(844)-SEMNEXT (736-6398) to book your free PPC strategy session now!