Social media platforms are a hodgepodge of businesses, influencers, and regular folks. Whichever category you fall under, we can almost guarantee you use social media just like you would use a search engine. Whether it's Pinterest, Instagram, Twitter, YouTube, or Facebook, each platform is it's own mini search engine. Knowing how to optimize the top social media platforms is crucial to your business' overall SEO campaign.
Here are our best practices for social media SEO:
Pinterest SEO
In the world of social media SEO, Pinterest is the big kahuna. If you're a business owner, Pinterest SEO is essential to driving traffic to your site and converting leads into customers. In fact, 93 percent of active pinners said they use Pinterest to plan for purchases. In order to have your pins and boards show up in search engines, you need to optimize your profile along with each and every pin you post.
Creating a Pinterest strategy is imperative to the number of impressions, and more importantly, clicks you get to your website. Showing up in Google's search results requires you to be active, original, and consistent. Pinterest SEO is an in-depth process. However, there are a few best practices you should know before you get started:
Convert your profile to a business profile & claim your website.

Add a keyword-targeted profile & board(s) description.

Pin original content (i.e. creative assets, blogs, and infographics).

Add hashtags to pin and board descriptions.

Use a Pinterest scheduler like

Tailwind

so you never miss a beat.
If you're ready to launch your business to the next level, it's time you learn the ins-and-outs of Pinterest SEO.
Instagram Strategy
Instagram is a powerful social media network that is both aesthetically pleasing and simple to use. Because of this, Instagram has over 800 million active users making it one of the most populated platforms out there. Just because it's populated, doesn't mean there isn't room for your business.
Instagram, like a mini search engine, displays data to its users through people's profiles, hashtags, and places. By optimizing your business' profile to target these search areas, your business is more likely to show up in Instagram's search and, more importantly, in Google's. Here's what you need to do:
Convert your profile to a business profile.

Add your websites link to your bio (or use

Linktree

).

Do research on the best hashtags for your industry.

Add hashtags to your posts and post consistently.

Add

action buttons

in your profile.

Engage with other users and businesses.  

Add geo-locations in posts and in stories

Add content on IG Stories frequently
Twitter Optimization
Twitter and search engine optimization are more intertwined than you think. Google relies on the follower count and social presence of businesses when displaying results in their index. This means it's time you create and optimize your business profile. One powerful aspect of the Twitter-Google relationship is that Google's search results display popular trending topics and tweets. If your business is involved in a trending conversation, this will look very enticing for Google.
To start optimizing your Twitter profile, keep in mind the keywords you are also targeting on your website. Incorporate these keywords by switching them to hashtags and adding them into your profile description, tweets, and photos.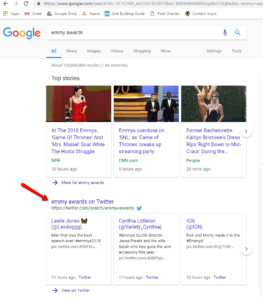 Hashtags first got their start in 2007 when former Google developer, Chris Messina, took to twitter and tweeted, "how do you feel about using # (pound) for groups. As in #barcamp [msg]?" Messina was heavily criticised for his idea, but 11 years later, hashtags are one of the most important elements to every social media campaign. Especially when using Twitter. Hashtags allow users to complete an advanced search on Twitter. The mini search engine displays conversations and topics related to the user's search. Therefore, adding hashtags to your tweets and conversations can get your business seen by your target audience.
Use the character space you are given wisely. Your Twitter username and handle should be consistent with your brand's name. The biography section should be eye-catching, concise, and informative. Have fun with it, but make sure it's clear what your business does and what you're about. And as always, link to your website.
Ask your followers to retweet your posts. If you want to expand your reach fast, this is the way to do it. Google does not penalize you for this, so don't worry about that.
YouTube & SEO
Launching a YouTube channel may seem like a daunting task. YouTube used to be a place where creatives flocked to share their love for vlogging, makeup artistry, sports, and music. Now, YouTube is a full-fledged search engine being used by influencers, businesses, and famous celebrities. Because of this, it can seem like your business' video might get lost in the sauce. However, with these social media SEO tips, we can promise you that won't happen. Here's what you need to know:
Come up with a list of keywords. Chances are, you already have a list for your website. Using that list, you can type into the search bar of YouTube. The search recommendations will display all
sorts of related keywords. These are terms that people are actually searching for. This will give you the exact keywords you need to target while also providing exceptional video ideas.
Now that you have an understanding of the keywords you need to target, say those words in your videos and, just like content writing, include them in both the title of the video and the description. Just like other social media platforms, this is how YouTube knows which search results to display your videos in. You can also use a tool like Tube-Buddy that will help you optimize your videos based on what is trending for the topic you are covering. They make caption suggestions and can show you where your videos are ranking in search.
Keep people watching. Audience retention is extremely important to your business' ability to rank in results. That's the challenge with YouTube: how do you keep people watching? Create something interesting, valuable, and engaging. If you are answering legitimate questions that people have, people will watch.
Ask your viewers to like, share, comment and subscribe. This is like a huge PSA to YouTube that your video is relevant and a reliable source. Again, this won't hurt your ranking.
Pinterest, Instagram, Twitter, and YouTube are all crucial parts of your overall SEO campaign. Apply these simple steps to your social media platforms and your rank will begin to improve. However, social media marketing can be time-consuming. Hire a SEO and social media marketing company to do the hard work for you. At Next Level Marketing we guarantee results. Call us now for a free paid social audit and strategy session. 1-844-736-6398
This article was written by our SEO Content Writer, Taylor Baselice.