Grow Your Business Through Paid Social
Get your FREE Paid Social Audit & Strategy Session
Backed by 20+ years of online marketing data, we analyze your campaign, recognize your mistakes, and provide an advantageous strategy to maximize results. We will then present the facts to you in a private video that you can watch at your leisure.

Free Paid Social Media Strategy Audit & Strategy
Free Paid Social Media Advertisement Analysis
Personalized Consultation With Our Paid Social Strategy Experts
Free Same-Day Paid Social Media Campaign Quote and Estimate
Proven and Profitable Paid Social Media Strategies & Tactics
Featured Clients Of The Month

Dermaclinic's calls and form fills grew over 425% after implementing a paid social strategy, This resulted in thousands of extra revenue every week!
They have now collected over 1,000 new leads over the past 3 months between phone calls, direct messages, and Facebook lead forms!
Dermaclinic is now well known within a 17-Mile radius due to Facebook's low advertising costs, Next Level's Ingenious strategies, and Dermaclinic's great receptionist team.
6,000
4,000
2,000
Jan
Feb
Mar
Apr
May
Jun
Jul
Aug
Sept
Oct
Nov
Dec

With a well-built full social media campaign funnel, we decreased Sea Pointe Construction's cost per lead by nearly 5,000%!
We also tripled their webinar attendance after launching our paid social media strategy promoting their online remodeling & design events.
Every webinar produced hundreds of email addresses which we utilized to remarket Sea Point's remodeling services on Facebook and Instagram
6,000
4,000
2,000
Jan
Feb
Mar
Apr
May
Jun
Jul
Aug
Sept
Oct
Nov
Dec

By utilizing their all-time customer list, we were able to build a solid prospecting campaign that generated a 10:1 ROI for their online hazardous material training course!
They also increased their returning customers by 34% due to our solid remarketing campaign strategy
Their average CPC decreased by 162% between all of their social media campaigns
6,000
4,000
2,000
Jan
Feb
Mar
Apr
May
Jun
Jul
Aug
Sept
Oct
Nov
Dec
Social Media Marketing Can Help Grow & Brand Your Business!
Social advertising is quickly becoming a favorite for many businesses. A growing percentage of advertising budgets are being spent on Facebook, Snapchat, Twitter, and Instagram Ads every day. Facebook's retargeting, custom audiences, and dynamic product ads are attracting a flurry of advertising attention.
Today's consumer seeks answers through social media platforms like Facebook, and LinkedIn, and not just through search engines. The relationship is symbiotic and complementary. SMM has many similarities to Pay Per Click (PPC) campaigns like Google Ads, but it is also very different.
Google Ads and Bing/Yahoo PPC are intent-focused. They are the most direct in-your-face forms of digital advertising, and are highly effective because of this. SMM, however, is all about fun, user engagement, and more importantly, brand awareness. With Social Media, you can brand your company based on your content.
Users want to feel connected to businesses. They want fun, engaging, "Shareable" content. They want the business to be their "Friend," and if done properly, they will share that connection with others.
Social Media Marketing is the fastest growing form of online advertising. Facebook alone has over 1 trillion page views every month. Facebook also has over 845 million monthly active users. That is over half of all internet users worldwide.
of marketers say social media is important for their business
of small businesses attract new customers through social media
of consumers check out companies on social networking sites before buying
of web users turn to social media for making purchases
of companies state social media is most effective in building brand reputation and awareness
of marketers have found a customer via Facebook
of consumers that acquire a quick brand response on social media are likely to recommend that brand to others
85% of marketers using Social Media aren't sure what Social Media tools are best to use, but we are!
Social media advertising has come a long way in a relatively short period of time. Social media advertising revenue reached $8.4 billion dollars in 2015, only ten years after Facebook launched its first paid advertising option in 2005. Paid social is a great way to directly target visitors to your websites based on their intent or search query.
Social media advertising allows businesses to market their goods and/or services to users by using their own shared information to identify interest. Unlike Google, Bing, or even Yahoo!'s paid-placement platforms, social media advertising proactively targets relevant users before they even begin their search. Social networking is a great option for any type of advertiser because of its advanced targeting options, conversion tracking, and relavence to the ever-expanding mobile user community.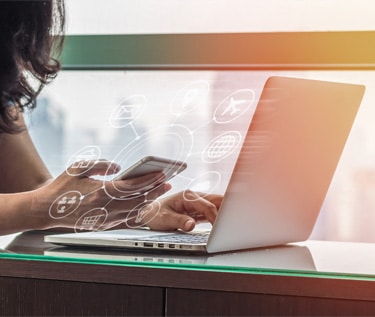 The Paid Social Team at NLM is highly trained and certified on all platforms of Social Media Marketing & Advertising. Whether you are looking to build your brand or drive in sales with Social Media, your dedicated team will devise a plan of action to assist you in reaching your marketing goals and objectives.
Our social media marketing experience spans all major social networks, (and a variety of niche and trending sites,) including: Snapchat, Facebook, Twitter, LinkedIn, Pinterest, Instagram, YouTube, and more.
We are experienced and stay ahead of the curve when it comes to the latest trends, tactics, remarketing, and target options, like Interest Targeting, Behavioral/Connection Targeting, Custom Targeting, Lookalike Audiences, etc. While we encourage our clients to post regularly on their social media pages (under the tutelage of their certified client concierge), your social team will post weekly curated posts, (trending and engaging content related to your business) and syndicate/share them with your ENTIRE Social Audience. As the saying goes, word of mouth isn't spoke anymore, it's posted.
77%
B2C companies have acquired customers through Facebook
43%
B2B companies have acquired customers through Facebook
80%
Social Media users prefer connecting with brands on Facebook
56%
of all customers Tweets to brands are ignored
34%
of web marketers have generated leads using Twitter
32%
of all web users are using Twitter
80%
of registered users are female and 80% of all pins are re-pins
70%
Pinterest referrals spend 70% more than non-social traffic
69%
have purchased or want to purchase via Pinterest
Why NLM's Paid Social Management
The NLM team has been working in the "paid-placement" arena for over 16 years. We have watched trends change and adapted accordingly to these changes. In an ever-changing and expanding industry, the worst thing a digital marketing company can do is become stagnant and not adjust its marketing efforts in the best interest of its clients.
Any digital marketing company can set up an online marketing campaign, but only a true Advertising Company understands the proclivities of the targeted audience. We take all the guesswork out of it and devise ROI-centric marketing strategies to assist our clients in increasing their brand awareness and attracting new customers.
All of our campaigns are monitored and tracked. Our proprietary analytics tools help you visualize what your website traffic looks like. Each client is provided with hands-on custom analytics to help them see their goals, conversions, interactions, user experience, etc. We want our clients to see how the process works, and we are 100% transparent when it comes to our reporting practices.
More importantly than anything we've already touched upon, we would be EXCLUSIVE to you, unlike our competitors. We only work with one client, per industry, per demographic. It is our opinion, and staunch stance, that this business model ensures there is no conflict of interest, and that each client receives the attention that their accounts need to be truly successful.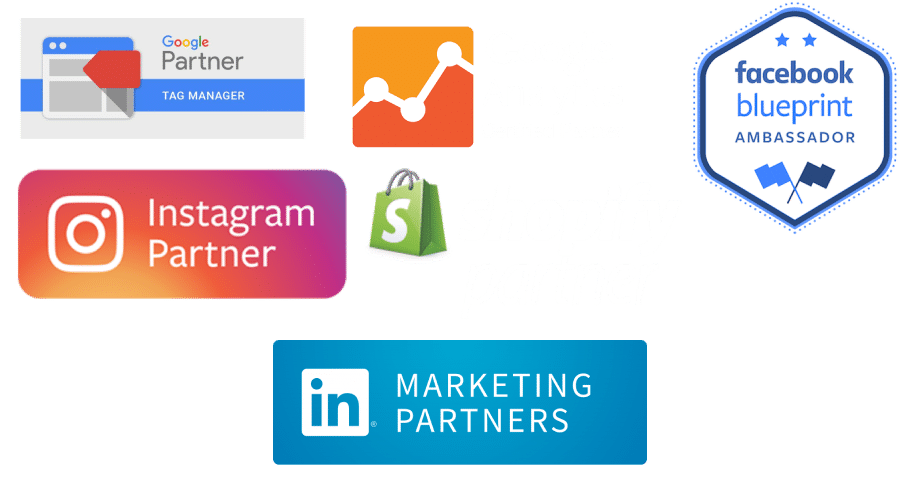 How We Take Your Social Media Marketing to the Next Level
We create ALL of your social media pages (or re-organize your existing pages) and manage them for you.
We optimize your social media pages so that they best represent your business (including but not limited to: bio content, content creation, photos, videos, reputation management, company logo, address, conversion tracking, etc…).
We curate weekly posts that are bolstered by trending and engaging content to share with your social media audience. 
We create monthly branded social posts that are cultivated by your NLM social team that are specific to your business, such as: quotes, promotions, website links, blog links, trends, or hot topics pertinent to your business.
We make use of #hashtagging and #linkbuilding through on-site blog and cross-marketing syndication of all social channels.
We routinely execute research and development to continuously identify social platforms that are the best fit for your specific targeted audience and demographic.
We will craft persuasive paid social ads that will grasp your targeted user's attention (includes remarketing).
We will create paid social accounts on correlated social media platforms and oversee the buildout of those campaign(s) via unique targeting options based on user engagement preferences.
Carefully manage your campaign's monthly spend, impression shares, traffic, CPC, CPM, and much more.
We will set up conversion tracking at every angle (calls, e-mails, and chats). We have a unique and proprietary call-tracking service that allows us to see how your potential users are interacting with your ad and converting to a call to your business. We provide an identical management service for all conversions, e-mails, and chats. In addition, each month you will be provided a list of your conversions that led to actual closed business.
Through ROI-centric management strategies, we precisely track your marketing efforts to make adjustments to increase leads, decrease lead costs, increase conversions, and improve overall ROI.
Once these strategies are implemented, you can effectively put a dollar amount next to each client, and cross reference with your Paid Social spend, so you can accurately figure out your ROI. More importantly, this will allow us/you to see what is yielding the best returns and make well-informed decisions on the right course of action for the campaigns, based on the analytics.
Top-to-bottom, we are your go-to online marketing agency for the very best in social media management.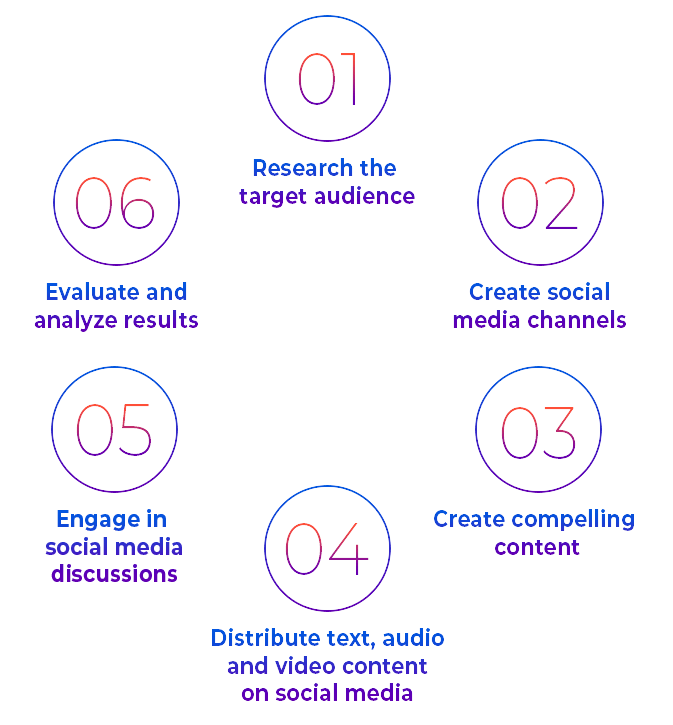 Research the target audience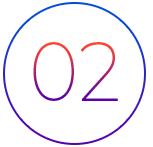 Create social media channels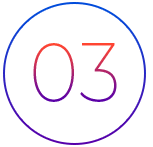 Create compelling content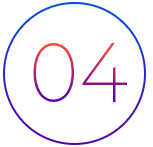 Distribute text, audio & video content on social media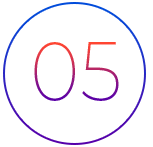 Engage in social media Discussions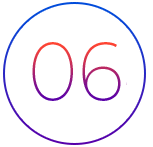 Evaluate and analyze results